Sanctions for US embargoes violation on Europe's Brisbane agenda
After BNP Paribas, headquartered in Paris, was sanctioned in 2014 by an American court to transfer $9 billion to the United-States for breaching American economic sanctions against Sudan, Iran, and Cuba, other European banks are provisioning. The November Brisbane meeting could be the "last chance" for Europe to defend its interests and discuss the political acceptability of future transfers to the United-States, at at time when the French government is struggling to add $4.6 billion to its budget savings for 2015.
BNP's case is hard to defend. The transactions were cleared through its US branches and therefore are subject to US law. Moreover, it seems that BNP knowingly broke the law and attempted to cover up its infractions, making the case somewhat cut-and-dry from a legal perspective.
End of the story? Not quite. The US dollar is the de facto international currency and with this privilege should come accountability, which would extend to the morality of US economic sanctions. European leaders should not accept the "seventies spirit" of John Connally, former US Secretary of the Treasury, who informed his European counterparts: "The dollar is our currency but your problem."
BNP's case might already be lost but it has brought to light an interesting question: What should Europe's position toward US embargoes be? The United States are using the privilege of issuing the international currency to deter European companies to trade with countries under American embargoes. European leaders should make a strong case in Brisbane that in the future, no sanction on a European company can be imposed based on a US embargoes breach. Europe's counterbalance would trigger a healthy debate in the vein of Cold War 'Strategic Arms Limitation Talks' that could put an end to embargoes due to their inefficiency and often ignored long term cost on human development.
In this post, I will explain why I believe this $9 billion sanction is a political decision, as well as why all European leaders should feel concerned and would do well to coordinate their responses. As breaching American embargoes is the main charge against the French bank, I will also discuss the acceptability of embargoes as a political tool.
The US dollar: an "exorbitant privilege"? Europe's leadership: a "game theory" textbook failure of coordination?
In their 2007 research article "From World Banker to World Venture Capitalist U.S. External Adjustment and the Exorbitant Privilege", Hélène Rey and Pierre-Olivier Gourinchas showed that "the United States enjoyed a substantial premium on its gross assets relative to its liabilities and that this premium has been increasing since the collapse of the Bretton Woods fixed exchange rate system. […] It is well known that the income account has remained positive for the United States despite gross liabilities exceeding assets by approximately 34 percent in 2004. In other words, the income generated by the (smaller) U.S.-owned assets abroad is larger than the income paid on the (larger) foreign-owned assets in the United States. This observation is sometimes taken as evidence that the United States enjoys an exorbitant privilege in the sense that it can borrow at a discount on world financial markets. […] The implication of the exorbitant privilege is that a 2 percent excess return allows the United States to accumulate debt exceeding its gross assets by 30 percent and yet still be a recipient of positive investment income."
In the Euro area, banks are facing:
A monopoly of the US dollar in carrying out international transactions, which – without any strong European political intervention – leaves European banks vulnerable to American sanctions regardless of Europe interests
A complex set of countries under sanctions. Daniel Drezner indicated in " The Sanctions Paradox" that, between 1992 and 1995, American sanctions were threatened or imposed sixty times against a total of thirty-five countries which together constitute forty-two percent of the world's population
A failure of coordination among European leaders. In one meeting, the ECB President stressed the need for joint efforts to the Eurozone leaders: "We avoided the collapse of the euro with a joint effort. Now our focus should be to act jointly again to avoid a relapse into a recession"
I believe that the current US legal sanctions are influenced by politics. I indeed consider that an embargo is driven by politics rather than by economic considerations; it is widely accepted among economists that lowering trade barriers has positive effects for the countries on both sides of such frontiers in most cases; e.g. Spence, Dixit, Stiglitz & Krugman frameworks.
I also assume that for a country to decide to sanction a systemic bank of an ally that breaches embargoes (the US embargo against Cuba has been questioned for the twenty-third time by the United Nations in 2014) is a political decision. To draw a parallel to illustrate my view, in 2011, the French government stepped in and refused to allow Thales, a French state strategic defence company, to cooperate in a US State Department probe about arm regulation infringement. At the end of the power struggle that ensued, Thales was not fined, but was sanctioned indirectly: it was forced  to discontinue one of its product lines, thereby wasting the product development costs and partly losing access to the Chinese space market. I consider defence and finance to be key sectors for a sovereign state whose major decisions are politically influenced.
Discountinuing a product line would be the equivalent of Europe giving up its sovereignty on political interactions with countries potentially under US sanctions (forty-two percent of the world's population in the nineties). The October 2014 list of European banks investigated by the Office of Foreign Assets Control for the breach of US sanctions is:
Deutsche Bank (De)
Commerzbank (De)
BNP Paribas (Fr)
Société Générale (Fr)
Crédit Agricole (Fr)
Unicredit (It)
Actually there are some precedence dating back to 2009 listed by Frances Copolla:
Lloyds TSB (2009; Iran, Sudan, Libya: $350m)
Credit Suisse (2009; Iran, Libya, Sudan, Burma; $536m)
Barclays (2010; Cuba, Iran and Libya;$298m)
ABN AMRO (2010; Iran, Libya, Sudan, Cuba; $500m)
Standard Chartered (2012; Iran; $300m)
ING Bank (2012; Cuba and Iran; $619m)
HSBC ( 2012; Iran, North Korea, money laundering;$1.92bn, )
RBS (2013; Iran, Libya, Sudan, Burma; $100m)
In the case of BNP Paribas, part of the US sanctions will impede its US activities. As there is no credible alternative to the US dollars we can expect BNP Paribas to lose customers worldwide. As reported in October 2014, "Without getting help [from JP Morgan Chase and Co, Bank of America Merrill Lynch and Citi] with the clearing [of energy transactions in U.S. dollars], BNP will simply not be able to operate its energy trade finance division".
If the financial sector is such a political concern for sovereign states (and Boris Johnson who said about the EU bankers bonus cap regulation: "This is an attempt to knock London off its perch. We're not going to let it happen."), why have there not greater reactions in the European political scene against US sanctions on European banks? My hypothesis is that after the 2007-2009 financial crisis, the public opinion in America became in favor of sanctions against financial intermediaries (hence the large scale scandals and sanctions: Libor, Forex). Even across the Atlantic, French President Holland said in Le Bourget in 2012 that "Finance" was his enemy. Such a populist statement during a presidential campaign could be seen as betraying some European resentment for  crisis many believe was initiated in America by financial instruments most Europeans had never heard of before: "subprime lending, special purpose vehicles, and asset backed securities" spring to mind. Those instruments, some populists might claim, were engineered by the financial sector to maximize its profit with a total disregard for negative externalities (For the record, this is not my understanding: I tend to believe that Europe already had its own structural and coordination problems, such as Greece masking its debt). Hence I speculate that some European leaders might consider that sanctions are now an answer to the popular frustrations against the financial turmoil in the wake of the 2007-2009 crisis.
Brisbane 2014, an important European coordination for its financial sector
After the 2007-2009, Europe's regulators are setting rules to strengthen its banking sector. The main consensus has been to request banks to increase their "buffers". The Financial Stability Board could implement a new regulation , for instance, which "the European banking sector as a whole could need to raise as much as 1trn of subordinated debt to meet new standards for Total Loss Absorption Capacity".
Studies have been carried out in an attempt to link the current (necessary?) tightening of banking capital requirements and the depressed level of bank lending to the real economy (here is one example).
European leaders are, for the most part in 2014, facing low GDP growth. I expect part of their efforts to maintain dynamism in their economies to be devoted to their financial sectors.
As seven European banks from Germany, France and Italy are facing (or have faced) potential sanctions from US legislation, I believe Europe would benefit from a coordinated response. Protecting European banks is not my main point, here I see at stake Europe's freedom in determining its economic and politic relations. Europe non reaction to the banks sanctions amount to a tacit acceptance for the US to use its exorbitant privilege of emitting the international currency to enforce US embargoes.
When it comes to embargoes, here is what I have learned from academic readings. G20 leaders should reconsider the sanctioning of embargo violations. I will precise how to define an embargo, review the literature and conclude that embargoes are an immoral political tool. I didn't expected to reach such a conclusion before I started this survey, but it leads me to have the same conclusion and reject the current economic sanctions on Russia as an acceptable political tool.
Embargoes
Tracy McNicoll, Newsweek correspondent based in Paris, used in her PhD dissertation Capitalizing Couragea definition of economic sanctions: "Game theorist Daniel Drezner's interpretation of economic coercion, a term he uses interchangeably with economic sanctions and economic statecraft […] 'I define economic coercion as the threat or act by a nation-state or coalition of nation-states, called the sentier, to disrupt economic exchange with another nation-state, called the target, unless the targeted country acquiesces to an articulated political demand.'"
Libya: The Conversion of a 'Terrorist State'
In a 2006, Luis Martinez from Centre d'Etudes des Relations Internationales held a view on Libya which may now seem surprising in light of the Arab Spring: "Three factors combined to force the Libyan regime to reinvent itself: the international embargo, […] Mouamar Qadhafi was able to include Libya among the states waging a 'global war against terror' and to present his country as a Mediterranean eldorado comparing favourably against the illusions of an Iraqi oil wealth." Luis Martinez insisted and praised "Mouamar Qadhafi […] once a revolutionary opponent to the dominant world system […] How could Colonel Qadhafi who was once banished form the international community be greeted with honours in Brussels in 2004?"
In light of what happened since 2006, shouldn't we rather conclude that Colonel Qadhafi played the sanctioned, pretending to abide by the rules? As Luis Martinez put it: "Colonel Qadhafi feared that Libya could be included in the list of countries identified by the Bush administration as 'the axis of evil', alongside Iraq, Iran and North Korea."
As of 2014, after "the international embargo" and military intervention from Western powers, it is not clear to me what has been achieved for the prosperity of Libya.
Iraq and the Domestic Political Effects of Economic Sanctions
In 2010, Nimah Mazaheri published a research article in The Middle East Journal that "shows how the imposition of sanctions strengthened rather than weakened Hussein's government" through a "rally 'round the flag effect." The article provides "an overview of the sanctions program and the political goals expressed by American administrations" for the "13-year period of sanctions." "On May 20, 1991 […] George H.W. Bush[…] stated: 'My view is we don't want to lift these sanctions as long as Saddam Hussein is in power'"
This became a "Catch-22" situation as the sanctions necessitated a "rationing system, […] the only system that 'saved the bulk of the population from starving.' In addition, it became one of the principal conduits through which Hussein would expand the role of the state and increase his authority over the Iraqi people." The author argued that the Hussein's government "authoritative system of allocation" was a rational decision. Even worse, "As Abdullah Mutawi explains, 'the risk of having rations withdrawn [was] too high a price for dissent'." The sanctions further fed Hussein's rhetoric; perhaps most notably, on August 5, 1991, he asserted in a speech:
"They have imposed sanctions on us under the pretext of demanding our withdrawal from Kuwait. Now that we are out of Kuwait, why should the economic blockade continue? Look how much they hate you. How can man live if he does not eat? […] There are organizations in the West for the welfare of cats and dogs, to protect and feed them. They are starving 18 million Iraqi people."
On January 17, 1998, Saddam Hussein made a speech about the virtues of martyrdom and the idea of a "grand jihad" which resonates with the 2014 events in Iraq and Syria:
"Harm might be done to Iraq, and blood might be shed on its land … and cases of martyrdom increase among those who will be bitten by the snakes of perfidy and embargo, … but Iraq will remain. What Iraq is losing as a result of the aggression and sanctions will be recompensed from the momentum it gains from steadfastness and resistance as well as from the spiritual lessons and meanings inherited in the history of humanity."
The author comments on embargoes as blunt instruments: "Whatever altruism that was originally felt toward the Iraqi population by the sanctions' architects in the West was completely lost in the reality of daily life under the sanctions."
"Throughout the early 1990s, the professional middle classes (the foremost potential source of opposition to Hussein's dictatorial regime) were decimated […] The sanction invented an entirely new class comprised of smugglers and distributors who played a role that was essential to the population's survival," an idea further developed by Susan Hannah Allen, associate professor of political science at the University of Mississippi, and one that any tourist can see at work in Cuban jineterismo.
Finally, there are certain flaws that tend to be inherent to policies of economic sanctions; typically, for instance the target might observe "moving goalposts" or argue that "most of the terms [are] unrealistic," and often  has the "sense that whatever we do will not be enough". Additionally, the target country might feel that  "a laundry list of demands that needed to be addressed before sanctions were to be removed [is] unlikely to have been acted upon favourably by any world leader".
In her book Hard Choices, Hillary Clinton admitted: "I voted to authorize military action in Iraq" and later wrote "if we knew then what we later learned, there wouldn't have been a vote. But I held out against using the word mistake." Clinton's admission here is revealing of what I would call is the 'political trap' of a war or an embargo: it is difficult, as a politician who was active in activating a war or an embargo, to acknowledge that was counterproductive without losing face. This 'political trap' is illustrated in a very interesting analysis by Alan Dobson "The Changing Goals of the U.S. Cold War Strategic Embargo" which explains how the costly and inefficient 1979 United States grain embargo to the USSR remained despite President Einsenhower worry "that even a minor change would have a 'remarkable' symbolic impact", hence stressing the "conveyance of messages". As Rostow, Special Assistant for National Security Affairs, saw it: "Any shift in U.S. policy under static Cold War conditions would 'impair US ability to hold up its end int he Cold War' and would be difficult to justify to the Congress and American people".
Sanctions on Burma, a hard choice?
Regarding Burma, Hillary Clinton wrote: "Jim told me that Western sanctions had succeeded in impoverishing Burma but that the ruling regime had only become more entrenched and paranoid. He was also concerned that we were inadvertently creating an opportunity for China to expand its economic and political influence in the country. Chinese companies were investing heavily in dams, mines, and energy projects across Burma, including a major new pipeline." Under those considerations, the United-States progressively lifted the sanctions against Burma as Hillary Clinton was serving as Secretary of State.
EU Sanctions on Iran: The European Political Context
In 2013, Ruairi Patterson published in Middle East Policy an overview of Europe's position toward Iranians sanctions. In 1996, "President Bill Clinton […] set the stage for a new confrontation with America's allies and trading partners by signing into law a bill punishing foreign companies investing in Libya and Iran."
"Britain and other European allies of the United States reacted angrily to Mr Clinton's announcement and made clear that the European Commission would consider retaliatory sanctions against Washington.
The strident complaints were almost identical to those which greeted last month's measure imposing sanctions on third country companies doing business with Cuba."
In response to America's Iran Libya Sanctions Act,  European Union foreign ministers claimed that "unilateral sanctions laws […] violate international law and state sovereignty and are prejudicial to the rights and interests of the European Union."
Some European banks are concerned as "in late 2008 did the U.S. Treasury ban a key element of non-U.S. banks' business with Iranians, known as 'U-turn' transactions, by which they passed dollars for Iranian clients anonymously through the U.S. system"
Patterson interviewed a former German diplomat that considered: "[The failure to oppose the latest US extra-territorial sanctions 'will make it harder to oppose them in the future]; the US will say it used them before [without serious opposition from the EU]"
In 2006, French President Jacques Chirac, told a French radio program: "I do not believe in solutions that do not involve dialogue, in any case a dialogue taken to its limits, I am never in favour of sanctions. I have never observed that sanctions were very effective."
European leaders should now take their cue from Chirac: the revocation of US sanctions should be at the top of their agenda in Brisbane if they are to avoid setting a precedent that allows the U.S. to drain capital form the European financial sector.
The Tragedy of Sudan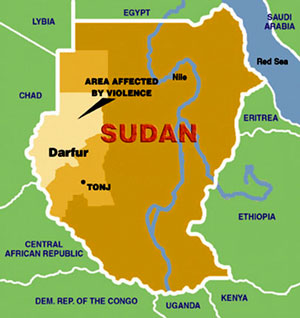 In a Time magazine article, Simon Robinson, who also covered the U.S. invasion of Iraq and the first eight months of the U.S. occupation, described the tragedy of Sudan.
Testifying before Congress in 2004, Secretary of State Colin Powell declared "I concluded–that genocide has been committed in Darfur, and that the government of Sudan and the Janjaweed bear responsibility, and that genocide may still be occurring"
Yet despite this clear vision, as Robinson puts it: "Already stretched thin in Afghanistan and Iraq and wary of intervening in another Muslim state, the U.S. has ruled out sending troops to Africa's largest country, throwing its support instead behind a proposal to deploy several thousand African observers, not to halt the violence but to monitor it."
Around the time that Powell was pledging for an implementation of sanctions against Sudan, Elfatih Erwa, the former Sudanese Minister of State for Defense, addressed the UN Security Council on July 30, 2004 in somewhat different terms: "One might also wonder […] if the Sudan would have been safe from the hammer of the Security Council even if there had been no crisis in Darfur, and whether the Darfur humanitarian crisis might not be a Trojan horse." In other words, he raised the possibility that perhaps some UN members had a hidden agenda. He also claimed that "To date, some 150,000 internally displace persons have returned to their homes. With regard to the Janjaweed, perhaps the Council heard the news of the arrest of 200 members of that group. They were brought to justice, and some of them received death sentences."
With this type of reasoning, it is hard to imagine how the threat of sanctions can be effective when officials from the government decry the sanctions as evidence of a 'hidden agenda' and insist they have been complying with UN Security Council requests:
"On May 12 [2004], in presidential statement S/PRST/2004/18, the Security Council expressed its deep concern at the continuing reports of large-scale violations of human rights and international humanitarian law in Darfur, including indiscriminate attacks on civilians, sexual violence, forced displacement, and acts of violence, especially those with an ethnic dimension, and demanded that those responsible be held accountable."
I question the effectiveness of the embargo approach that was taken against Sudan, even when it comes to arms embargo. In International Affairs 2007, Alex Vines went back to the 1990s – a time period that has been described the 'Sanctions decade' for the United Nations" – and questioned "Can UN arms embargoes in Africa be effective?" He concludes rather negatively, that "for the most part, UN embargoes have not stopped weapons reaching Africa […] In African, UN sanctions are generally treated as diplomatic signals; they should not become a standard response to crisis as they are token and clumsy measures that are unlikely to bring about policy change and merely erode the reputation of the UN over time."
The Real Reason It's Nearly Impossible to End the Cuba Embargo
In 2014, PETER KORNBLUH and WILLIAM M. LEOGRANDEOCT published an interesting article in The Atlantic in which they describe the events leading to "the codification of the [US-Cuba] embargo into law".
Although Hillary Clinton recognized in 2014 that "the embargo is Castro's best friend," providing him "with an excuse for everything." her husband passed this very embargo into law. The Helms-Burton law as it became officially codified "dominated public debate on Cuba policy in the latter half of 1995 – a veritable Greek tragedy played out in the skies over Cuba's coast— set in motion by repeated incursions into Cuban airspace by a group of Cuban-American pilots known as Brothers to the Rescue (BTTR)." The group was founded in 1991 by José Basulto, a hardliner who had participated in the 1961 Bay of Pigs invasion alongside 1500 other Cuban exiles, all of whom had been trained by the CIA. To give some insight into Basulto's personality and motives, the article quotes him as saying: "When I was young, my Hollywood hero was John Wayne. Now I'm like Luke Skywalker. I believe the force is with us."
In "1994, however, Basulto shifted BTTR's mission from rescue to provocation. […] Repeatedly over the next eight months, BTTR planes violated Cuban airspace," prompting the Cuban government to register at least five diplomatic protests regarding the airspace violations. The FAA took little notice, requesting additional evidence but refusing to ground Basulto in the meantime.
Basulto penetrated Cuban airspace despite a clear warning from Cuban controllers on February 24, 1996, and one of the planes in his retinue was shot down.
 The next political move was Clinton's: he signed the Helms-Burton bill into law as a "powerful, unified message to Havana." Clinton understood what he had done. He felt "backed into a policy of proven failure," he lamented to a confidante in the Oval Office, "closing off political engagement toward a peaceful transition in Cuba" for the sake of electoral expediency. "Supporting the bill was good election-year politics in Florida," Clinton conceded in his autobiography, "but it undermined whatever chance I might have had if I won a second term to lift the embargo in return for positive changes within Cuba."
As Arthur Culvahouse pointed out in the Houston Journal of International Law, "The Cuban sanctions have been in place since 1962 and are the most restrictive [among U.S. embargoes], having been issued under the Trading with the Enemy Act, which was passed during World War I." His analysis is not far from Clinton's: "The current Cuban regime does not want the sanctions lifted for fear of loss of control."
The emergence of social networking sites and increased flow of information has played a strategic role during the Arab spring and other popular uprisings. So much so, in fact, that then-Secretary of State Hillary Clinton once intervened as "Twitter was planning to shut down its global service for preplanned maintenance at a time that would be the middle of the day in Tehran." Her team "quickly reached out to alert [Twitter][…] to the disruption the shutdown could cause to Iranian activists. As a result Twitter delayed its maintenance until the middle of the following night. In a blog post the company noted that the reason for the delay was 'the role Twitter is currently playing as an important communication tool in Iran.'"
As Kathy Castor, a US Representative from the state of Florida, acknowledged in September 2013, "Cuba and its citizens are more than a decade behind with respect to the Internet and broadband."  I personally believe in the effort to digitalize Cubans, especially as it would help them fight against local corruption.
Economic sanctions: A blunt instrument?
So far, I have gathered academic research on the political failure of embargoes in Cuba, Sudan, Iraq, Iran. In the literature, I have found compelling arguments that embargoes are not only inefficient tools but are harmful to the local population.
In the Journal of Peace Research in 2012, Susan Hannah Allen and David J Lektzian carried out econometric analysis to confront the literature: "Following the experience with sanctions in the 1990s, critics began to challenge [the logic of such policies], arguing that sanctions are a potentially immoral foreign policy tool that indiscriminately and unjustly targets poor and innocent elements of society (Gordon, 2002; Mueller & Mueller, 1999; Al-Samarrai, 1995; Damrosch, 1993). Indeed, former UN Secretary-General Kofi Annan (2000) referred to sanctions as 'a blunt instrument which hurt large numbers of people who are not their primary targets'."
In line with the Hussein's "rally 'round the flag" argument, "Rationing programs increase dependence on the state, and food is often traded for loyalty (Niblock, 2001)."
Yet these are not the only negative externalities:
"The public health risks associated with sanctions occur more indirectly as access to clean water, a steady food supply, and regular health care may decrease as a result of diminished resources,"
and as "roads, hospitals, and sanitation systems may be neglected and fall into disrepair as a result of sanctions. This scarcity and neglect creates the indirect health risks associated with sanctions."
The authors tested two main hypotheses and found that the data was supporting them:
H1: Economic sanctions will have a negative effect on health outcomes in targeted societies
H2: Sanctions, even those that impose high economic costs, will have a lesser negative effect on health outcomes than that associated with military conflict
Conclusion
I have gathered scholarly research in support of the view that embargoes are an "immoral foreign policy tool." I have considered the particular cases of Cuba, Iran and Sudan, which are the countries cited in a US court decision to sanction a French bank $9 billion for breaching those US embargoes.
Those sanctions, it can be argued, breach international law, and should be considered a foreign policy that could impede European sovereignty .
I see Bribane as an important milestone for Europe to overcome interests coordination failures if it is to prevent the US from draining funds out of European banks one after the other, "diviser pour régner".
Isn't it ironic that, at a time when European banks are required to increase their capital ratios to weather upcoming crises, European leaders allow funds to be transferred to the United States of America from some of its systemic banks financing, among other things, a New-York prosecutor's new carpet?
The United-States are using the privilege of issuing the international currency to deter European companies to trade with countries under american embargoes. European leaders should make a strong case in Brisbane that in the future, no sanction on a European company can be imposed based on a US embargo breach. Europe counterbalance would trigger a healthy debate that could put an end to embargoes, helping political leaders to end past immoral decisions without losing face.
To finish on an academic note, Tracy McNicoll wrote of embargoes' negative externalities: "There is reason to believe that the cost-benefit calculus applied to sanctions has been incomplete; sanctions are often judged on the day they are lifted, in the country upon which they are imposed, whereas their policy-relevant effects may persist weIl beyond their lifting and even beyond the boundaries of their target. […] International peace and security are increasingly intuitively linked to sustainable human development, advanced as it is by carefully considered peacebuilding and reconstruction post-conflict. […] Those effects of sanctions may directly impact on the prospect of building peace and reconstructing states post-conflict and post-sanctions."
Sources:
 Cuba:
Honorable Kathy Castor, Congressional Digest, September 2013
Culvahouse, Arthur. "A practical guide to international sanctions law and lore: mamas, don't let your children grow up to be sanctions lawyers" Houston Journal of International Law, June 2010
Sudan:
Elfatih Erwa, Minutes of the 5015th meeting of the UN Security Council on July 30, 2004
Iran:
EU Sanctions on Iran: The European Political Context
Ruairi Patterson
Middle East Policy, 2013
Azad, Shirzad. "IRAN AND THE TWO KOREAS: A PECULIAR PATTERN OF FOREIGN POLICY" The Journal of East Asian Affairs, Winter 2012
Libya:
Martinez, Luis. "Libya: The Conversion of a 'Terrorist State'" Mediterranean Politics, 2006
Iraq:
Mazaheri, Nimah. "Iraq and the Domestic Political Effects of Economic Sanctions" Middle East Journal, Spring 2010
USSR:
Dobson, Alan P. "From Instrumental to Expressive."
Journal of Cold War Studies, Winter 2010.
Arms embargoes:
Vines, Alex. "Can UN arms embargoes in Afria be effective?"
 International Affairs, 2007.
Negative externalities of embargoes:
Allen, Susan Hannah and David J. Letzkian. "Economic sanctions: A blunt instrument?" Journal of Peace Research, 2013.
McNicoll, Tracy. Capitalizing Courage: Sanctions Assessment and the Outcome of the Outcome. McGill University, June 2004
Weiss, Thomas George. "Political gain and civilian pain: Humanitarian impacts of economic sanctions." Political Science, 1997
Further readings:
"Beck, Colin J. and Emily Miner. "Who Gets Designated a Terrorist and Why?"
 Pomona College, March 2013.
Grosse, Tomasz Grzegorz. "Geo-economic Relations Between the EU and China: The Lessons From the EU Weapons Embargo and From Galileo." Geopolitics, January 2014.
"Despite knowledge to the contrary, peacemakers carefully avoided connections between Darfur and the ongoing north–south peace negotiations they were championing to end Sudan's long second civil war. These ideational moves gave peacemakers a degree of cover for not responding directly to the conflict, but they also shaped the political calculations and opportunities of domestic actors in ways that further enabled armed violence, ultimately leading to policy failure."
Srinivasan, Sharath. "Negotiating Violence: Sudan's Peacemakers and the War in Darfur." African Affairs,
2013.
Deals de justice : le marché américain de l'obéissance mondialisée
Antoine Garapon et Pierre Servan-Schreiber